GROUND SHIPPING INCLUDED on ice cream orders for eligible addresses. Next Day Air delivery available for most addresses for only $29.95. VIEW MAP >
SIGNATURE CHIP
French Pot Ice Cream
We have a passion for our rich, creamy, melt-in-your-mouth
chocolate. It's what we're known for. And for good reason!
Try any of these great handcrafted ice cream flavors, buy online and ship nationwide! To find out the flavors available at your local Graeter's retail location, please contact the store directly as flavors vary by location.
BLACK CHERRY CHOCOLATE CHIP
We make our indulgent Black Cherry Chocolate Chip flavor by pairing sweet dark cherries from the Pacific Northwest with our gourmet bittersweet chocolate chips.
"THE CHERRIEST!!!" - Reviewed by ALINED
Learn More >
BLACK RASPBERRY CHOCOLATE CHIP
This is our signature flavor, made with black raspberries from Oregon's Willamette Valley and our gourmet bittersweet chocolate chips. Our All-Time Best Seller, an absolute "must-try" for anyone new to Graeter's!
"THIS IS THE BEST ICE CREAM EVER!" - Reviewed by Joe
Learn More >
BUCKEYE CHOCOLATE CHIP
We pay tribute to our home state's famous Ohio buckeye candy with this flavor's blend of peanut butter, cocoa, peanut butter cookie dough, and our gourmet bittersweet chocolate chips.
"GET IN MY BELLY!" - Reviewed by Amanda Huff
Learn More >
CHOCOLATE CHIP
We make this quintessential American Classic profound by pouring our gourmet bittersweet chocolate into a spinning pot of sweet cream flavored with pure Madagascar vanilla extract.
"AMAZING!" - Reviewed by Paige
Learn More >
COCONUT CHOCOLATE CHIP
Escape to a tropical paradise of frozen delight, combining flakes of grated coconut and our gourmet bittersweet chocolate.
"SINFUL PLEASURES" - Reviewed by Nichole
Learn More >
COOKIE DOUGH CHOCOLATE CHIP
Our classic vanilla base loaded with bits of cookie dough and our signature dark chocolate chips.
"THIS ICE CREAM IS EVERYTHING!" - Reviewed by Gabe
Learn More >
DOUBLE CHOCOLATE CHIP
A decadent duet of Belgian dutched cocoa and our gourmet bittersweet chocolate chips will satisfy even the most demanding chocoholic.
"BEST, HANDS DOWN!" - Reviewed by Megan
Learn More >
MINT CHOCOLATE CHIP
Pure Peppermint Oil provides a blast of minty freshness that is pure perfection when matched with our gourmet bittersweet chocolate chips.
"BEST ICE CREAM WE'VE EVER HAD" - Reviewed by Shane
Learn More >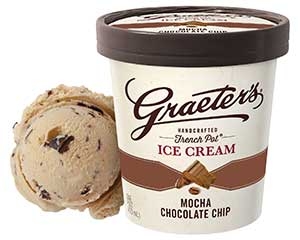 MOCHA CHOCOLATE CHIP
Made with our proprietary blend of dark roasted Colombian and Sumatran Arabica coffee beans, mixed with fresh sweet cream then made sublime with the addition of our gourmet bittersweet chocolate.
"YUMMY, THAT'S ALL YOU CAN SAY." - Reviewed by Bean
Learn More >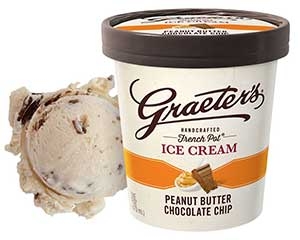 PEANUT BUTTER CHOCOLATE CHIP
Our combination of peanut butter ice cream and milk chocolate chips puts a frozen spin on one of America's favorite treats that is sure to please kids and adults alike.
"I NEED THIS ICE CREAM IN MY LIFE :)" - Reviewed by Linda
Learn More >
SALTED CARAMEL CHOCOLATE CHIP
We made our Original Salted Caramel ice cream, still crafted by cooking brown sugar and cream with a pinch of salt, even more decadent with the addition of our gourmet, signature dark chocolate chips.
"THIS IS THE MOST DECADENT ICE CREAM I HAVE EVER TASTED!" - Reviewed by Ben
Learn More >
S'MORES
Our S'mores ice cream captures the essence of this campfire tradition by adding our signature milk chocolate chips and soft mini marshmallows to a rich creamy graham cracker ice cream. A truly unique treat!
"IT TASTES JUST LIKE A S'MORE!" - Review by S'more Lover
Learn More >
TOFFEE CHOCOLATE CHIP
We start with our classic vanilla ice cream, mix in crunchy pieces of genuine Heath® brand toffee candy, and then perfect it with our gourmet milk chocolate chips!
"MY FAVORITE ICE CREAM HANDS DOWN!" - Review by Jessir
Learn More >