Graeter's New Lil' Pints Playroom
Our Graeter's Lil Pints indoor playground located at 2136 Bethel Road, Columbus and 8533 Beechmont Avenue, Cincinnati. Come and let your kids enjoy an active, fun-filled afternoon away from the cold and rainy weather.
Our indoor playground features multiple ice-cream-themed slides, a banana-split-inspired teeter-totter, plenty of room to play and a fun, ice-cream-truck photo opp. Open seven days a week, hours vary by season.
Our play area is perfect for children 9 and younger; featuring multiple slides and plenty of room to play and (of course) yummy ice cream! Our handcrafted, French-pot ice cream comes in over two-dozen different flavors, the most popular being our Black Raspberry Chocolate Chip.
Our Graeter's Bethel and Cherry Grove stores is also one of the most popular birthday-party destinations in the area! With private party room rentals available; contact us to reserve a room.
Lil Pints Playroom FAQs
Playroom includes numerous activities, climbing zones, slides and more. Playroom amenities vary from location to location.
For the safety of little feet, socks are required in play areas at all times. If you forgot socks we sell pairs for $1 at the register.
Children ages 9 and under welcome in playroom. All children require adult supervision and play at their own risk.
No food or drink is allowed in the playroom and must be kept outside or in the party rooms adjacent.
The playroom itself can not be reserved, and is open for all store guests to play and have fun.
Playroom only available at Cherry Grove and Bethel Road retail stores.
Party Package & Party Room FAQ's
The birthday party package includes a private room with a fun host, create-your-own sundae bar, and a t-shirt and gift for the birthay child.
All party rooms have a maximum occupancy depending on location, which we are legally obligated to enforce. This may limit the total amount of guests possible in the party room at one time.
Outside food and drinks are welcome in party rooms. We ask that you refrain from bringing outside ice cream, and prohibit any alcohol.
You are welcome to bring in decorations and decorate the party room as you see fit.
Party Rooms available to rent at a $70 rate for 90 minutes.
*All pricing subject to change
Birthday Party Package
$14.50 per child (8 Child Minimum)
Includes: Private party room with dedicated host and create your own sundae bar. Also comes with a t-shirt and gift for the birthay child.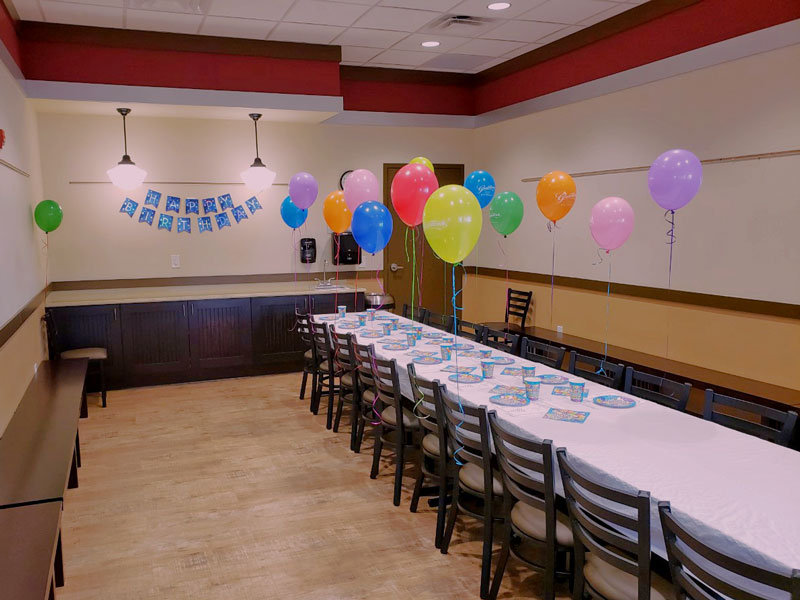 Submit a Room or Party Package Request
Contact us through our online form below or call one of our party room stores to the right to request a party package or room rental.
Columbus - Bethel Road
Private Party Rooms and Lil' Pints Indoor Playground
2136 Bethel Road, Columbus, OH 43220
Cincinnati - Cherry Grove
Private Party Rooms and Lil' Pints Indoor Playground
8533 Beechmont Avenue, Cincinnati, OH 45255