Looking for a deliciously easy way to boost company morale? A tasty ice cream treat is one of the best corporate gift ideas that can deliver a smile while improving company culture. Whether you need gift ideas for employees or clients, ice cream is the perfect way to say "thank you," "congratulations," or "happy holidays."
Complete Your Order In 3 Easy Steps!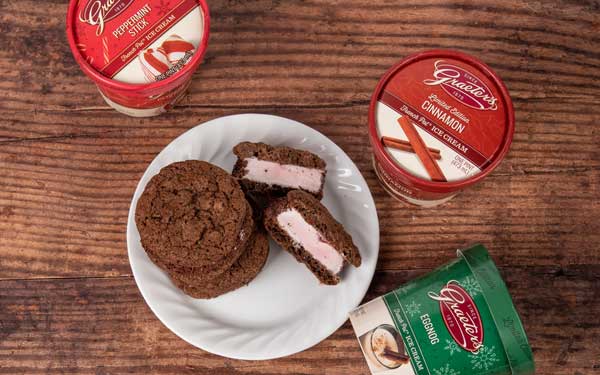 STEP 1: CHOOSE YOUR HOLIDAY GIFT
Choose from an assortment of over thirty flavors. We ship exclusively in quantities of six pint and twelve pint packs. Or choose from deluxe party packs, ice cream sandwiches and chocolates.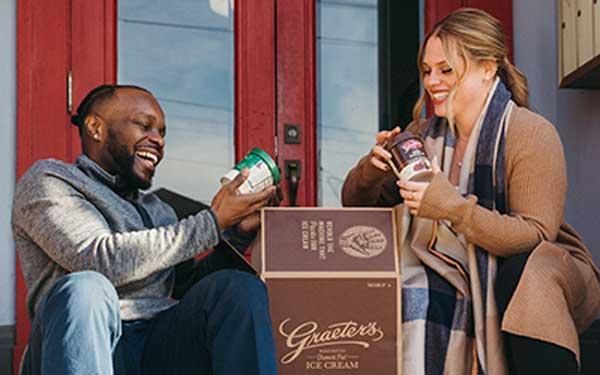 STEP 2: COMPLETE OUR ORDER FORM
Use our handy spreadsheet to organize all your recipients' addresses, unique gift messages and delivery dates. Call our gifting specialists at 800-721-3323 option 2 if you have questions.
Want to send candy? Download our candy order form instead.

STEP 3: SUBMIT YOUR ORDER
Complete the fields below. We'll be in touch the next business day.
Download the Large Order Form
For 10 or More Shipments

To assist you with the gifting process, the order template helps you organize your selections, recipients, delivery dates and gift messages.

Get a head start on your gifting by downloading our Order Form & Gift Guide.
Select Your Gift and
Pick a Delivery Date

You can self-select or take advantage of Graeter's gifting specialist to help you select the perfect gift from our handcrafted ice cream pints, sandwiches, or party packs.
Upload the Form and
Submit Your Order

Ice cream is shipped nationwide and guaranteed frozen. Overnight and 2-Day Delivery available.

Save on 25 or more shipments.
Use this form to place 10 or more orders.
The corporate gifting program is for large orders. If you only need to place only a few orders, click here.
Graeter's Gifting Details
When it comes to creative corporate gift ideas, you can't go wrong with Graeter's ice cream. Show everyone how much you value their contributions to your company with a fun and festive party or some tasty take-home treats. You can even implement corporate gift ideas for clients by hosting a customer appreciation day and offering them a delicious ice cream sandwich as a thank you for their business and support.
Around the Christmas season, corporate holiday gift ideas aren't always easy to come by. At Graeter's, we know the value of a thoughtful and unique gift experience unlike any other, especially at this time of year. That's why we provide corporate Christmas gift ideas that are sure to wow and leave a lasting impression while keeping with the joy and celebratory spirit of the season.
Do you need budget-friendly corporate gifts that can still show your gratitude? Our products are the ideal solution for corporate gift ideas under $100. Choose from a variety of rich flavors or let your employees choose their own with a digital or traditional gift card in any amount that fits your budget. You don't have to break the bank to help your team feel connected and appreciated.
With Graeter's Ice Cream, any time is the perfect time to give a corporate gift. From holidays and company anniversaries to just because, show your employees and clients how much you care with the simple yet satisfying gift of ice cream.
Product Options
We ship in quantities of 6-pints ($79.95), 12-pints ($119.95) and 12-pack ice cream sandwiches ($72.00). We can upgrade your pint pack to a Deluxe Party Pack that includes three dessert sauces, serving supplies and ice cream scooper for an added $30. We also offer digital and plastic gift cards.
Shipping Details
Ice cream orders must be shipped via UPS Next Day Air service for $29.95-$39.95, UPS Ground delivery for $9.95 is only available for a limited delivery area (our packages ship out of Louisville, Kentucky). We can deliver Tuesday-Saturday, Saturday delivery is extra. View our ground shipping map. We ship to all 50 states but are not able to ship to Canada. We are unable to deliver to PO Boxes.
Payment
We accept Visa, American Express, Mastercard and Discover along with direct wire transfer and ACH payments. Once you have sent us your order form, we will share a link to our payment portal and confirm your order. We require full payment prior to your ship date.
Guaranteed Gifting
We guarantee that your ice cream will arrive frozen. If your ice cream arrives melted we will schedule a replacement box of ice cream to ship out the next available business day. We will do out best to meet your preferred delivery date, but we can not guarantee the date or time of delivery.