GROUND SHIPPING INCLUDED on ice cream orders for eligible addresses. Next Day Air delivery available for most addresses for only $29.95. VIEW MAP >
Fruit
SORBET
Surprisingly succulent, our frozen
sorbet will make you want to pucker up
and kiss the scoop that scooped it.
Try any of these great flavors through our online store! To find out the flavors available at your local Graeter's location, please contact the store directly as flavors vary by location.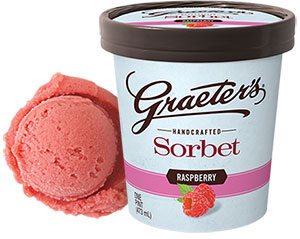 RASPBERRY
Fresh, juicy red raspberries make ours the sorbet-lover's sorbet. Oh, in case you're wondering. Yes, it will cleanse your palate. It will cleanse it of any and all desire to eat any other brand of sorbet ever again.
Learn More >
LEMON
Bright and light, our Lemon Sorbet is a refreshing cool respite from the hottest summer day.
Learn More >