Meet the Family
Richard Graeter
President and CEO of Graeter's
rich@graeters.com
As a member of the fourth generation of the Graeter family to own and operate the business, Richard Graeter is dedicated to the family tradition of making ice cream, while embracing new opportunities and technology to grow the business.
As the brand champion for Graeter's, Richard has worked with his partners to revitalize the company's brand identity to reflect the quality that consumers have come to expect from Graeter's super-premium, hand-packed ice cream, as well as to create a cohesive look for ice cream, candy and bakery products. He has built a successful online web store, shipping ice cream, candy and other products next day air to customers, including many celebrities throughout the United States. Since becoming CEO in 2007, Graeter's has expanded nationally, opening a new manufacturing plant in 2010 and doubling its company-owned stores with the acquisition of new locations in Dayton and Columbus.
Richard serves as a member of the Investment Advisory Committee for The Cure Starts Now Foundation, which is seeking to find the cure for all cancers by finding the cure for one of the most elusive cancers, pediatric brain cancer. Richard also served on the Board of Trustees for Cincinnati Public Radio, Inc. from 2002 to 2011, serving as board chairman for the last three years of his tenure. CPRI operates the nationally acclaimed classical radio station WGUC 90.9, and WVXU 91.7, which is the local NPP/News station.
---
Chip Graeter
Chief of Retail Operations
chip@graeters.com
Chip Graeter, also a fourth generation member of the Graeter family to own and operate the business, has been involved in guest interaction at Graeter's retail stores since his teenage years. He is extremely passionate about each guest's experience, and works to make sure that every visit to Graeter's is a satisfying and positive one for every guest.
By learning the guest service aspect of retail sales from the ground up, Chip has developed a keen sense of the guest's needs and desires, developing a reputation for consensus building that has helped the company work toward common goals for a better guest experience and company growth. He works with a retail team as well as the sales staff to ensure patrons are included in the Graeter's experience. "It's more than just the irresistible ice cream and treats," says Chip. "It's my goal and personal mission to make the entire Graeter's experience satisfying and memorable for every guest."

Chip graduated from Wittenberg University with a Bachelor of Arts degree in speech and theater. Chip is very involved in the community in and around Madeira, Ohio where he lives with his wife and 3 boys. He has served on the Vestry of St. Thomas Episcopal Church in Terrace Park, and just recently completed eight years of being a Den Leader for all three of his sons. He now serves on the Board of Directors of the Dan Beard Council of the Boy Scouts of America and has helped to lead their annual fundraising campaign for two years.
Chip is honored to have grown up in a family business that has been fortunate enough to see great success and popularity in Ohio over the past 142 years. It is his desire to make sure his family tends to the details of the business and keep Graeter's viable for the next generation of the Graeter family.
---
Robert Graeter
Chief of Quality Assurance
bob@graeters.com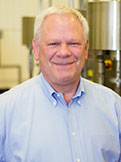 Robert Graeter, a member of the fourth generation of Graeter's to own and operate the family business, has been with the company continuously for 17 years. Starting out as a store manager in the early 1980s, Bob has worked his way up to the position of vice president of operations.
Bob heads the company's operations management team which focuses primarily on sourcing and vendor relations, product development and wholesale sales. He also oversees new store development and build-out.
Bob Graeter graduated from Wittenberg University in 1977 with a Bachelor of Science in biology and went on to earn a Master of Business Administration from the University of Michigan in 1984. Outside of the office, he is extremely busy raising three beautiful daughters. He also is active as a deacon and a former trustee of the Wyoming Presbyterian Church. A self-proclaimed "foodie" and "wine geek," Bob is always on the lookout for the next hot new flavor idea to make into a new ice cream, bakery or candy product.
---
Tom Kunzelman
Vice President of Manufacturing
tom@graeters.com
Tom Kunzelman started with Graeter's in 2003 as the Director of Ice Cream. During his first 2 years he trained extensively with Dick Graeter to learn the "Graeter's Way" of making ice cream. Dick's way was using only the finest ingredients no matter what the cost and staying true to the French pot process. During this time he cataloged the recipes, which was very important because prior to that most formulas and processes were only in Dick's head.
In 2005 he was promoted to Plant Manager which was the first time in 135 years that someone outside of the Graeter family was trusted with managing ice cream production. In 2010 he was promoted to Vice President of Manufacturing and was key in opening the new, state-of-the-art facility in Bond Hill in 2010 that was named Dairy Foods magazines Plant of the Year in 2011.
Tom was born and raised in the Northern Kentucky area, attending Dixie Heights High school and Northern Kentucky University. He has completed many certification programs including HACCP, ServSafe, BWC, OSHA, and Penn State University Ice Cream Short Course.
Prior to Graeter's, Tom spent almost 20 years with Aramark Corporation in the Business Services division working with companies such as General Electric, Procter& Gamble and Toyota Motor Manufacturing. Tom currently resides in Crescent Springs KY, with his 2 daughters and enjoys boating and the occasional round of golf.
---
George Denman
Vice President of Sales
george.denman@graeters.com
George Denman joined Graeter's in 2009 after 18 years with Dannon. He brings over 35 years of consumer packaged experience to Graeter's having worked for leading CPG firms including Dannon, HJ Heinz, and Anheuser Busch. George has led the sale efforts to take Graeter's nationally expanding the brand today into 46 states from Alaska to Maine.
George graduated from Miami University in 1977 with a Bachelor of Arts in French and attended l'universite de Toulon in France where he did his post graduate studies in Economics. George is married and has three children, Jake, Sabrina, and Annabelle.
---
Tim Philpott
Vice President of Marketing
tim.philpott@graeters.com
Tim Philpott joined Graeter's in 2015. In addition to growing up in Cincinnati as a Graeter's fan, Tim brings over 25 years of branding and marketing communications experience to Graeter's having worked for a number of leading firms including Cincinnati Bell, Luxottica Retail (LensCrafters/Sunglass Hut) and Principle Business Enterprises. A trained qualitative market researcher, Tim also led a successful consulting practice, magrew partners, helping firms with branding, advertising and consumer research.
Tim graduated from Miami University in 1989 with a Bachelor of Science in Marketing and received his MBA from the University of Cincinnati. Tim and his wife, Angie, have two children, Margaret and Andrew, who both currently attend Indiana University.
---
Steve Hellmich
Candy Production Manager
steve@graeters.com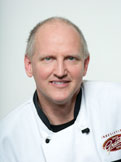 A trained chef and candy maker, Steve Hellmich is the production manager for candy at Graeter's. Known to most as Graeter's "Candyman," he is responsible for candy design and the company's candy production. Steve is passionate about the culinary arts and enjoys sharing his knowledge of the properties of making confections.
Steve has been teaching cooking classes in the Cincinnati area since 1997. He has taught cooking classes at Cooks Wares and EQ (Entertainment Quotient) at The Party Source. He was formerly a consultant for Procter & Gamble working on curriculum and recipe development for Culinary Sol Cooking School.
Prior to working at Graeter's, Steve was the executive chef and food service director at the Cincinnati Branch of the Federal Reserve Bank, where he prepared meals for Allen Greenspan on several occasions. He has worked as a sous chef at the White House Inn and the Waterfront locally, as well as at prestigious East Coast restaurants, including the Inn at Little Washington. He also was a chef/instructor at New England Culinary Institute (NECI) where he taught catering.
Steve Hellmich is a graduate of DePauw University and The New England Culinary Institute. He has been active in the Cincinnati community and shares his talents with WHW, Cure Starts Now, and Family Cancer Care.