Voted 2017 City Beat - Best Dessert of Cincinnnati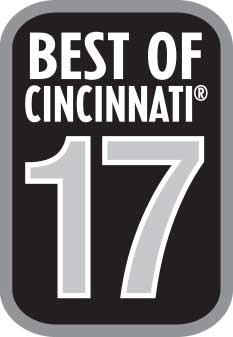 To be regarded as Cincinnati's Best in not one, but two categories? To us, that's just plain wonderful. Thank you Cincinnati City Beat Magazine for honoring us in the Best Ice Cream and Best Desserts categories. We're surrounded by some really great company, also honored in other categories, such as Jungle Jim's, Skyline and Dewey's Pizza. Congrats to everyone! Let's continue to make Cincinnati great. Learn more about the list and the winners.
The votes are in! We are proud to have been selected as the 2015 The Munchies: People's Choice Food Award Winner of most amazing tasting ice cream! And with such dedicated fans, it's no wonder. They simply can't get enough and are proud to admit it, with such rants as, "Enjoyed is an understatement" and "I am in LOVE with this flavor. It is so creamy, rich and the cherries are amazing, just like the chocolate chips."


So how do we do it? Through an unbreakable commitment to stay true to our great great grandmother's French Pot Process and undying love of only the finest, freshest ingredients. The result? Ice cream that is rich, creamy and packed with flavor. A taste you must try for yourself!


Check out all of the winners from this years Munchies Awards and the panel of culinary celebs, led by TV personality and chef Andrew Zimmern, at tablespoon.com/themunchies