April 2017
Sweet new partnership making Zoo visitors happy!
CINCINNATI, OH (April 19, 2017) – Two Cincinnati favorites are working together to serve up smiles. Thanks to a new partnership with Graeter's Ice Cream, Cincinnati Zoo & Botanical Garden visitors can now enjoy Madagascar Vanilla Bean while looking at lemurs from that remote island!


"We are very excited about adding another hometown brand to the Zoo" said V.P. of Marketing and Communications, Chad Yelton. "Our guests (and staff) have been asking for Graeter's Ice Cream for years so it's nice to be able to offer this sweet treat to our 1.6 million guests that visit each year."


"Being a part of Cincinnati area family-favorite venues like the Zoo is important to us," shares Chip Graeter, 4th generation owner of Graeter's Ice Cream. "The Zoo is a beloved landmark in Cincinnati, and it's an honor to offer our ice cream to Zoo visitors this year."


Graeter's Zoo shop, which is located next to Jungle Trails, serves cookies & cream, cotton candy, dutch milk chocolate, Madagascar vanilla bean, strawberry cheese cake, black raspberry chip, buckeye blitz chocolate chip, chocolate chip, cookie dough chip, mint chocolate chip, salted caramel chocolate chip, raspberry sorbet and a variety of chip wheelies and sundaes.


The world famous Cincinnati Zoo & Botanical Garden is committed to inspiring visitors to care about wildlife and wild places. It has been rated the #1 attraction locally and one of the top zoos in the nation by Zagat Survey. It has also received rave reviews from Child Magazine, Parents Magazine, USA Today and TripAdvisor. Over 1.5 million people visit the Zoo's award-winning exhibits, and more than 500 animal and 3000 plant species annually. The Zoo, an accredited member of the Association of Zoos & Aquariums (AZA), is internationally known for its success in the protection and propagation of endangered animals and plants and engages in research and conservation projects worldwide. Known as the #GreenestZooInAmerica, the Zoo is doing its part to conserve natural resources that are critical to saving wildlife and its habitats and is committed to greening its daily operations and reducing its impact on the environment through the use of rain gardens, recycled building materials, solar panels and more. The Cincinnati Zoo is a 501(c)(3) nonprofit organization.

Voted 2017 City Beat - Best Dessert of Cincinnnati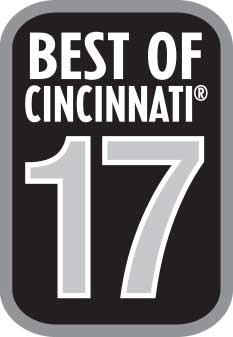 To be regarded as Cincinnati's Best in not one, but two categories? To us, that's just plain wonderful. Thank you Cincinnati City Beat Magazine for honoring us in the Best Ice Cream and Best Desserts categories. We're surrounded by some really great company, also honored in other categories, such as Jungle Jim's, Skyline and Dewey's Pizza. Congrats to everyone! Let's continue to make Cincinnati great. Learn more about the list and the winners.
We are beyond thrilled when we hear from friends and fans that Al Roker and Bobby Flay spoke about their love of Graeter's on the Today show. It appears that they know what all of you have known all along: Black Raspberry Chocolate Chip is something special. From our family to yours, thanks for spreading your love of Graeter's near and far. It's made it all the way to the Big Apple. Hmmm … new flavor idea?